Original article published on the Asheville Area Chamber of Commerce's website on September 11, 2019. Find it here.
In this week's spotlight, twin sisters Cynthia and Paula Penovi share the story of Argentum Translations, a minority and women-owned family business that provides translation and language services for business.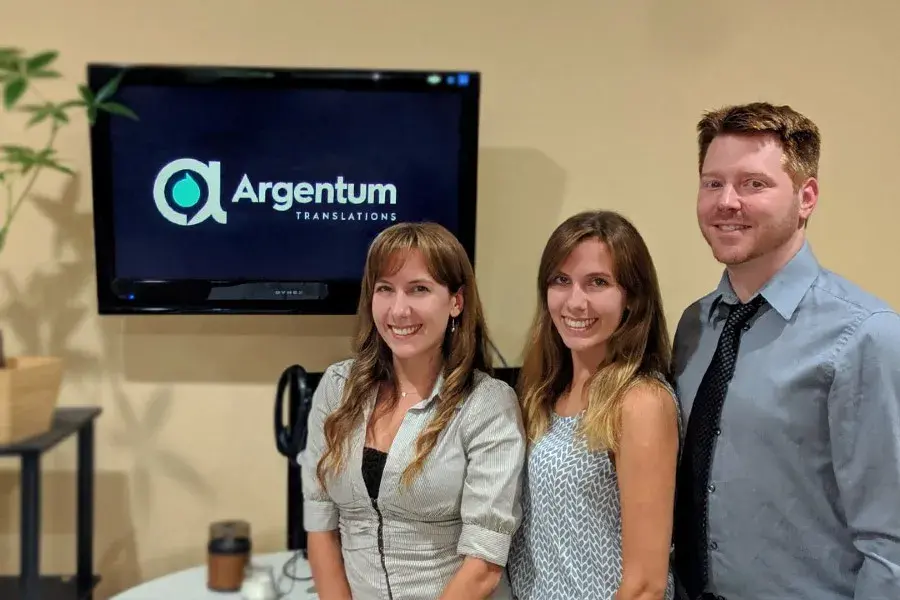 Tell us about your business and the role you play in it.
Our names are Cynthia and Paula Penovi and we are identical twin sisters who started our journey as translators around 10 years ago in Argentina. We are the co-owners of Argentum Translations, a minority and women-owned family business that provides translation and language services for businesses. Our company was born as an initiative to break down language barriers for our community and build strong linguistic and cultural bridges so that everybody can communicate as if they spoke the same language and shared the same culture.
We have always had a passion for languages and, after obtaining our bachelor's degrees in Technical, Scientific and Literary Translation and visiting the US on several occasions, we ended up combining our diverse expertise and qualifications in a translation agency in the Asheville area. The highly-specialized requirements of our translation assignments inspired us to pursue master's degrees related to the field: Cynthia has just finished her master's in Art and Communication, while Paula got certified by the American Translators Association (ATA) and is getting ready to defend her thesis in Medical and Healthcare Translation in October.
We provide a broad range of translation services to and from more than 50 languages, and we have worked with content from many fields, including school textbooks, software user guides, applications, clinical trials, marketing campaigns, you name it! We also provide localization services (adapting your message to the cultural standards of an audience in terms of codes, graphics, style, humor and more), transcreation services (a blend of translation and creative writing, mostly used for marketing and advertising purposes), editing and proofreading, subtitling and dubbing services, and desktop-publishing services (using graphic design software to give translations the format and layout of the original content). We work with medical, legal, marketing, IT, technical, financial and educational content, and we serve businesses, non-profit organizations and institutions looking to communicate with the local non-English speaking communities or take their products and services abroad.
How did you get your idea or concept for the business? How did you decide on a name?
We had been toying with the idea since we were really young. Our mother is an English teacher and our brother is a certified translator too, so we grew up in an environment highly influenced by academic language learning. Once we moved to the United States, we noticed a general demand for high-quality language services due to the overall lack of translation academic programs and professionalization in the industry, along with the need to provide equal opportunities and access to the ever-growing non-English speaking population. This is a big contrast to what we experienced in Argentina, where English proficiency is highly prioritized and academic translation studies are very well-established.
We aim to fill this need in the US with a company whose name reminded us of our roots and what our country stands for in the Hispanic world: "Argentina" is derived from the Latin "argentum" ("silvery"), and the name "Argentina" was used by Spanish and Portuguese conquistadors in the 16th century, in reference to the Río de la Plata (meaning "River of Silver"). We chose the colors gray (a neutral, balanced and sophisticated color) and turquoise (associated with wise, creative and refreshing qualities) to reflect our values, which are professionalism, high-quality and expertise, combined with an approachable, modern and flexible image.
What makes your business unique in its field?
Leaving aside the fact that we are identical twins running a family business together, the main thing that makes us different is our absolute requirement that all the linguists we work with be certified or have degrees in the field. We believe in high-quality work supported by academic training and continuing education, and since translation is an intellectual process that requires specialized knowledge, being bilingual is not enough. You don't become an attorney by simply watching Law & Order, or an accountant just because you are good at math and know how to handle spreadsheets. Well-executed translations can mean the difference between life and death, freedom and jail time, great customer service or a bad public reputation. Our methodology distinguishes us from other local companies because we use three linguists for each project (a translator, a proofreader and a quality specialist) to structure our translation workflow in a way that guarantees high quality.
In addition to this, we are experts in the latest translation technology solutions in the field, which allows us to provide more accurate translations, capability for larger projects (an average of 50,000 words per week), increased speed and turnaround times, and the guarantee of coherence and consistency within a project. Moreover, we can provide our clients with the possibility to reuse previous translations, discounts for repeated segments, glossaries and other perks. We can also work with graphic design software such as Adobe Illustrator and InDesign to recreate the original format and layout of our documents.
Fair trade is another crucial goal of our company, since many of our contractors are located in developing countries. We strive to promote greater equity by paying fair rates to our colleagues in a world in which the real value of translation is gaining recognition but it is still hard to quantify in money. We understand translation as a very specialized craft that requires years of training and expertise, and we aim to support our fellow global linguists with better trading conditions than other big international translation agencies. We are committed to working with professionals only, with competitive compensation commensurate with their abilities. Last but not least, we care about our local community and are engaged participants who try to give back as much as possible. Western North Carolina is full of amazing people, and our vision is to promote language access to help residents grow, gain equal access to services and resources, and use their full potential so that they can contribute as much as possible to the society. This is one of the reasons we are offering pro-bono translation services to nonprofits in the area, with our most recent project consisting of translating 10,000 words into Spanish for Pisgah Legal Services.
How many employees do you have? And what qualities do you look for when hiring?
One of the greatest aspects of running a translation business is that we can do it from anywhere in the world. We don't have a need for employees because we work with a large network of reliable colleagues from all over the world who provide high-quality language services in their native languages. Our team is made up of linguists with MAs, BAs, credentials and certifications in translation that are relevant in their location and language pair. All of our linguists need to have over 3 years of experience working in the translation field and using specific translation tools and technology solutions. We also work with doctors, lawyers and other specialists for concept and terminology review when necessary, and collaborate with marketing specialists and graphic and web designers to meet formatting and localization requirements.
Why did you decide to join the Chamber?
We knew we would become members of the Chamber sooner or later because building relationships is a crucial aspect to running a business and there is no better place to build a powerful professional network than at the Chamber of the Year! Our commitment to working with our fellow business owners and expanding our diverse local economy were our main drivers to start taking advantage of all the initiatives promoted by the Chamber. They do an amazing job at empowering local companies by organizing networking events and offering resources and learning opportunities. At the moment, we are proud to be the only language and translation services provider among the 1,700 members of the Chamber and to be listed in their directory, which is a great space for visibility. We were surprised to find that there are not many translation agencies in this area and, because of this, we ourselves have been working with the Carolina Association of Translators and Interpreters (CATI) to build networks of professional translators and interpreters in an attempt to professionalize the industry and promote its recognition. We definitely appreciate all the spaces that the Chamber provides to help us make our profession more visible, such as this newsletter.
What is your favorite part about doing business in the Asheville area?
The Asheville area is a very unique, diverse and different place to do business; what is not to like? We can provide translation services from anywhere in the world, but we decided to build our company here because there is something very special about the community in this place.
It is very inspiring how small businesses are the foundation of the economy in this area and there is a huge importance placed on shopping local. Every time we go to a networking event, we are greeted with a lot of warmth and love. Our fellow Ashevillians really care about supporting each other, and they are becoming more and more committed to promoting language diversity and multilingual spaces for the rest of the community.
We also love the commitment to patient care in Asheville. We feel very strongly about helping underserved Limited English Proficiency (LEP) residents get access to health care and navigate the school system. It is incredible that we have one of the top 15 best health systems in the country here, Mission Health, where Paula worked as a Certified Medical Interpreter for a few years.
Moreover, we have the Appalachian Mountains, the thriving art scene and the amazing weather, which are all part of the Asheville charm!
https://argentumtranslations.com/wp-content/uploads/2019/10/Argentum-3.webp
600
900
wp000634
https://argentumtranslations.com/wp-content/uploads/2022/09/Argentum-logo-1.webp
wp000634
2019-10-24 13:47:14
2022-09-01 20:41:13
Chamber of Commerce: Argentum Translations promotes language diversity