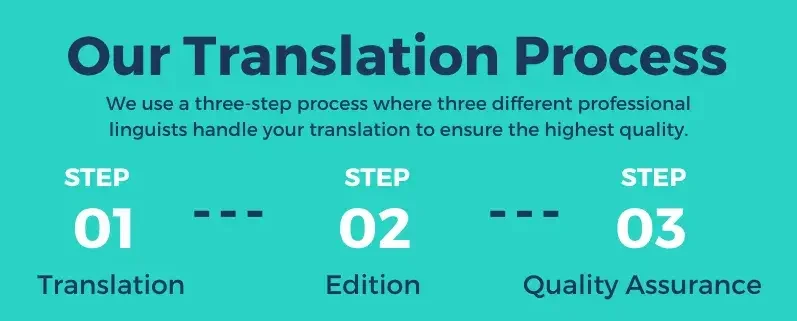 Written by Cynthia Penovi
What happens when you order a translation?
Translation is a highly-intellectual process that involves extensive linguistic knowledge, cultural competence, outstanding writing skills, and a contrastive text and genre analytical assessment. This is why, in order to ensure that a translation conveys your message accurately and faithfully, we use a three-step process where three different professional linguists handle your translation and make sure it has the highest quality possible. The three steps are translation, edition, and quality assurance.
When you contact us, we will ask you to send us all the content that you need to translate, with any relevant reference files or style guides. We will analyze the content to understand your goals, needs, and expectations. We will also provide you with information about our services and answer any questions you might have. We will ask you for any additional information we may need, and you will be provided with a quote and a turnaround time.
Once the project is confirmed, the content is then translated into the required language by a first linguist. After that, the file is thoroughly edited by a second linguist to fix any issues related to grammar, meaning, terminology, readability, cultural adequacy, punctuation, compliance with instructions and specific requirements, etc. A third linguist will then make a rigorous final quality assurance assessment to make sure the resulting translation is in perfect condition for you and your target audience. If the content needs to be formatted using graphic design software and images with text need to be recreated in another language, an additional step called desktop publishing (DTP) is added in order to make sure graphics, fonts, artwork, and images are properly designed for your translation project.
You can also request the creation of a glossary with your preferred terminology for all the translation team to implement, which can be built upon and updated to increase consistency and coherence in the project. If you have specific requirements for the translation, a style guide can be elaborated so that all of your guidelines are properly followed.
How do we select the linguists who will be handling each task?
As certified translators with BAs and MAs, we are especially concerned with delivering high-quality services. We collaborate with a wide network of reliable and professional translators, proofreaders, and editors who work in different fields and with different languages across the globe. Our team consists of linguists who are native speakers and have degrees, certifications and credentials in the industry, which are recognized in their native countries. When we receive a translation project, the team assigned to it is carefully selected based on the translators' language, expertise in the subject matter, years of experience translating such content, academic background, relevant degrees, and specializations. Our linguists go through an extensive screening process to determine if they meet the necessary requirements for a project.
Do you need to translate a file? Send it to info@argentumtranslations.com to get started!
https://argentumtranslations.com/wp-content/uploads/2020/05/2-2.webp
497
797
wp000634
https://argentumtranslations.com/wp-content/uploads/2022/09/Argentum-logo-1.webp
wp000634
2020-05-14 13:40:20
2022-09-01 20:35:55
Our Translation Process Explained